Howard University Celebrates #GenerationEquality and the HeForShe Campaign
April 23, 2020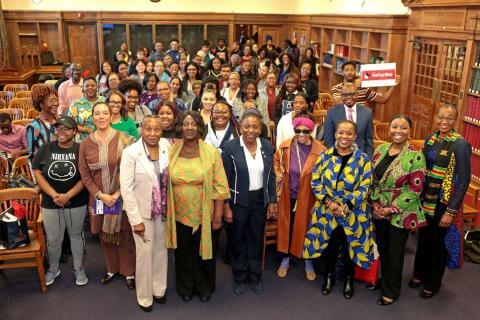 By Britney Samuels
March 18, 2020
"If you see another woman and her crown needs fixing, you help her out, right?" proclaimed Dr. Tashni-Ann Dubroy the Executive Vice President and Chief Operating Officer at Howard University. Howard hosted its Fourth Annual International Women's Day celebration on March 4, 2020, in the Browsing Room of Founder's Library. This year's theme at Howard University was Generation Equality: Black Women and the Struggles for Equality. The event was opened with remarks from Dr. J Jarpa Dawuni, chair of the organizing committee. In delivering the welcome remarks on behalf of the University, Dr. Anthony Wutoh, Provost and Chief Academic Officer noted that "a key aspect of our University's mission is the maintenance of an enduring commitment to producing leaders for America and the global community. It is fitting that International Women's Day provides a great opportunity to affirm Howard's role in educating women in all fields to become excellent practitioners and leaders."
Howard University President Dr. Wayne A.I. Frederick was not in attendance due to a previous engagement however, in a written statement, he noted that "women, men and other non-gender binaries are contributors to the world we live in. Our individual actions, dialogues, behaviors and mindsets have an impact on our larger society. Collectively, we are responsible for making our world more inclusive and just. I am a son, husband, father of a young lady, and the president of an institution, where approximately 70 percent of the student body population identifies as female and more than half of my executive leadership team is made up of women. Through our collective efforts, all of us at Howard University can make gender equity and gender balance a reality." President Frederick's statement captured the essence and goal of the celebration, Black gender solidarity. 
According to Dr. Rubin Patterson, Dean of the College of Arts and Sciences "women's equality at Howard, in the United States, and across the globe is still unrealized, though some progress is evident, and programming such as this rich Howard event contributes to the ongoing quest for women's equality by raising awareness and celebrating women's contributions. Originally heralded in socialist and communist countries, International Women's Day gained the recognition of the United Nations over 40 years ago and, today, we are reminded of how far we have come, but most glaringly, how far we still have to go."
Similar sentiments were emphasized by Dr. Sandra Edmonds Crewe, Professor and Dean of Social Work when she stated "As we celebrate the theme, "Generation Equality: Black Women and Struggles for Equality," it is important that we invest in more than being first—but rather invest in breaking barriers and cultivating others to build upon our unique legacies as Black Women to champion social justice for diverse families and communities. We should protect and advance the dreams of those who follow us. In the words of Harriet Tubman "Every great dream begins with a dreamer. Always remember, you have within you the strength, the patience, and the passion to reach for the stars to change the world." Black women have been trailblazers in the struggle for gender equality for generations as Dr. Crewe acknowledged. Despite this, mainstream gender and feminist movements tend to diminish the tremendous efforts of Black women and reduce them to secondary roles.
The two esteemed guest speakers present were Ambassador Dr. Thelma Phillip-Browne and Dr. Beatrice Duncan. Dr. Thelma Phillip-Browne served as a medical officer as well as a district medical officer for several years before becoming the Ambassador of St. Kitts and Nevis to the United States in 2011. She has a degree in Dermatological Science and was a practicing dermatologist until she became an Ambassador. In 2011 Dr. Phillip-Browne also became a preacher in her community church. Dr. Beatrice Duncan's career began in Ghana as a gender and child law specialist. She currently works as the Rule of Law Advisor (Justice and Constitutions) and Focal Point on Indigenous and Minority Issues at UN Women. Dr. Duncan also served as the Program Officer for the Structural Adjustment Participatory Review Initiative. She has been involved in various law reforms for women's property rights, child protection, and spearheads equality in law for women's justice in UN Women.
The scheduled speaker for the event was Dr. Phumzile Mlambo-Ngcuka,  the current Executive Director of UN Women and the United Nations Under-Secretary-General. She did various activist work in South Africa during apartheid including a movement to ensure women's rights were not left out in the new constitution of the country, combatting the HIV/AIDS crisis, fighting against the harvesting of blood diamonds, and attempting to rid the country of rampant education issues and poverty. She was a member of Parliament during the Mandela government in addition to Deputy Minister (she would later go on to become Deputy President.) Currently, one issue she is concerned with is male engagement to help end gender inequality against women. Dr. Mlambo-Ngcuka was supposed to be in attendance, however, due to a recent outbreak of CORVID-19 (Coronavirus) in New York City, she was unable to attend the event. View video: Executive Director of UN Women Message to Howard University
Nonetheless, Dr. Mlambo-Ngcuka was still able to communicate to the audience via a pre-recorded video. "Women's rights are human rights and human rights are women's rights!", she declared to the audience. Dr. Mlambo-Ngucka asserted that now is the time for activists both young and old to band together to combat gender inequality as well as climate change. She also recalled that this year marks 25 years since the Beijing Declaration and Platform for Action often heralded as the most progressive document in line with advancing women's rights.
Kenyan comedian, poet, dancer, singer, songwriter, and spoken word artist Anna Mwalagho was also present and mentioned her one-woman show "Never Thought I was Black Until I Came to America." Mwalagho joked about the manner in which Afrocentric features like full lips, dark skin, and large rear ends are now in high demand in America among non-Black people. "All my life I never realized I was sitting on a gold mine!" she exclaimed as laughter broke out amongst the audience. Mwalagho encouraged especially the Black women in the audience to love themselves in their entirety and chant "I am enough, you are enough!"
The conversation sobered as Dr. Phillip-Browne and Dr. Duncan took to the stage. Dr. Phillip-Browne asked Dr. Duncan to give a brief introduction to her life. Dr. Duncan began by describing her upbringing in rural Ghana. She said both her parents were relatively uneducated and due to that, they stressed the importance of education for her. Dr. Duncan stated that one of the most memorable instances of gender inequality that she remembered witnessing occurred when she was in high school during the early 1980s. Her favorite English teacher came to the school in tears and explained that her husband had just passed away and that she and her children had been forcibly locked out of her home due to an inheritance law that was in place in Ghana at the time. Dr. Duncan vowed that when she became older, she would change laws like these that were unfair to Ghanaian women and children. In 1995 she helped to change a law that raised the legal age of marriage for Ghanaian girls to 18 years old. She stressed that she wanted to honor African women who fought against western imperialism and colonization. Prior to colonization, most women in African countries lived in matrilineal communities where land and property were passed from mothers to daughters. Colonizers destroyed these traditions because they were aware that to conquer a culture, they had to reduce women's roles significantly. In the words of Dr. Phillip-Browne "To understand who we are we need to know where we came from." 
Dr. Duncan asserted that patriarchy has always existed on the African continent before colonization. She also mentioned that UN Women has been working closely with traditional religious leaders to help dismantle patriarchy. Dr. Duncan claimed some male chiefs were afraid of getting rid of patriarchy because for many of them that was the only power colonization had left them with. However, the women in the organization presented gender equality as a positive investment for their communities. She went on to state that Generation Equality is a way to acknowledge how both young and old people have a part to play towards creating a truly equal society.
According to Dr. Duncan, young people have been left out of these important conversations. She urged the audience to use technology to change the world and not just women but men as well. She encouraged the male students in attendance to sign up for classes on feminism, gender equality, etc. Dr. Duncan expressed hope that Generation Equality would redefine gender equality. Duncan wished to see male rappers create popular songs advocating for women's rights and equality. She also expressed a desire to see men on Howard's campus collaborate with women in true gender solidarity. This led to an introduction of the HeForShe Campaign which was initiated by the UN Women to advance equality across all genders.
Dr. Jeanne Maddox Toungara presented Ms. Pauline Hazel with this year's Vanguard Service Award for over 30 years of service to Howard University. Ms. Hadiyah Cummings, a political science and criminology junior won the award for creative works writing contest  for her essay "Black Women are Angry and You Should Be Too: An Analysis of the Inequalities Black Women in America Face." The award for creative works went to Cydney Ukwuoma, a sophomore biology major and chemistry minor  for her art work titled See Through, which depicts the montage of  her mother against the backdrop of the hustle and bustle of a community in Liberia, and she notes " Her picture is cut into slices because inequality is a part of her womanhood, yet it still has not broken her apart entirely. You can still tell that it's her picture." 
Dr. Dawuni closed the momentous event by emphasizing men are necessary for true gender equality and that gender solidarity is part of African and Black cultures.
Categories
Humanities and Social Science Labs & Centers and Women, Gender, Sexualities Collective