"It Takes a Woman" at Howard University
April 23, 2020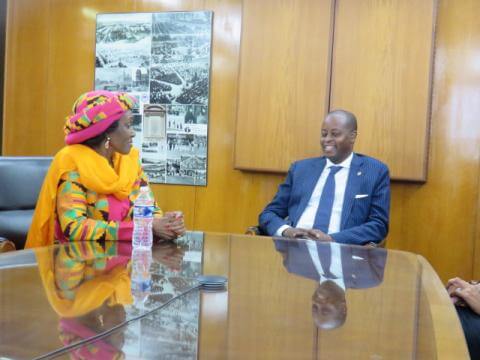 By Camille Alexander
October 9, 2019
After the triumphant release of her autobiography, "It Takes a Woman", former First Lady of Ghana, Mrs. Nana Konadu Agyeman-Rawlings visited Howard University to impart some wisdom on an eager crowd of faculty, dignitaries, and students. The event, dubbed Fireside Chat, was organized by Dr. J. Jarpa Dawuni, Associate Professor of Political Science and Co-Director of the Women and Gender Studies Collective at Howard University. Agyeman-Rawlings' visit begun with her meeting Howard University President Wayne Frederick, MD, MBA in his office in the presence of University Provost Anthony Wutoh, Ph.D, R.Ph and Ambassador Larry Palmer, Diplomat -in-Residence at Howard University. President Frederick discussed the historical significance of Howard University and proceeded to present her with a gift of the Howard University official pin.
Agyeman-Rawlings was given a tour of the university quadrangle by Mr. Jeronimo Augusto, Program Manager for International Programs in the Office of the Provost, assisted by Mr. Richmond Danso and Ms. Constance Pruitt, doctoral candidates in the Department of Political Science. Delivering the welcome remarks on behalf of the University, Provost Anthony K. Wutoh described Agyeman-Rawlings as a "prolific champion of women and children's rights." Dr. Ravi Perry, Professor, and Chair of the Department of Political Science welcomed Agyeman-Rawlings and commended her for visiting the Mecca. 
Agyeman-Rawlings provided unpreceded insights into her early years and her initial foray into the political arena. When asked how she felt during the 1979 coup d'etat  in Ghana that would end in her husband becoming Head of State, Agyeman-Rawlings recalled the constant uncertainty she felt on whether she would see him again and the concern she felt for her family as new mother.
Named after an Ashanti Queen Mother, Agyeman-Rawlings grew up during the early post-independence era in Ghana. Influenced by the geopolitical climate in her country, Agyeman-Rawlings recalls an early inclination to mobilize her peers to create the change in her community she wished to see, even if it meant tending to a neighbor's garden. As explained by Agyeman-Rawlings, she was taught from an early age to learn the mechanisms and conversation styles of the politicians her family encountered on a constant basis. Additionally, she was socialized in her family with a strong sense of right and wrong that would later manifest itself in her service to humanity.
Despite her position as First Lady and a champion for the marginalized, few people, even in her country, knew much about the woman behind the 31st December Women's Movement. The book effectively humanizes this illustrious public figure by displaying the nuances of her personal life and her ability to balance her various roles as a wife, mother, activist, and politician. Agyeman-Rawlings' riveting commentary on the state of politics in the African continent was inspirational to those in the room with political ambitions. She noted that it is imperative that all of us, regardless of a desire to be politicians or activists foster a love for our own communities that supersedes our wishes. When asked about the use of violence as a revolutionary tool, Agyeman-Rawlings quickly directed the young activists in the room towards other measures of mobilization. As Agyeman-Rawlings posits, "no head of state should think that the country belongs to them." It Takes a Woman" is a testament to the over 40 years Agyeman-Rawlings spent as a public servant and to the spirit of social justice that mobilizes us to serve our communities. Let us be as intentional as Agyeman-Rawlings in preparing the next cohort of leaders.
• Camille Alexander is a Sophomore at Howard University majoring in Media, Journalism and Film with a minor in African American Studies. She participated in this program as part of her class requirement in Introduction to Political Science with Professor Dawuni.
Categories
Women, Gender, Sexualities Collective